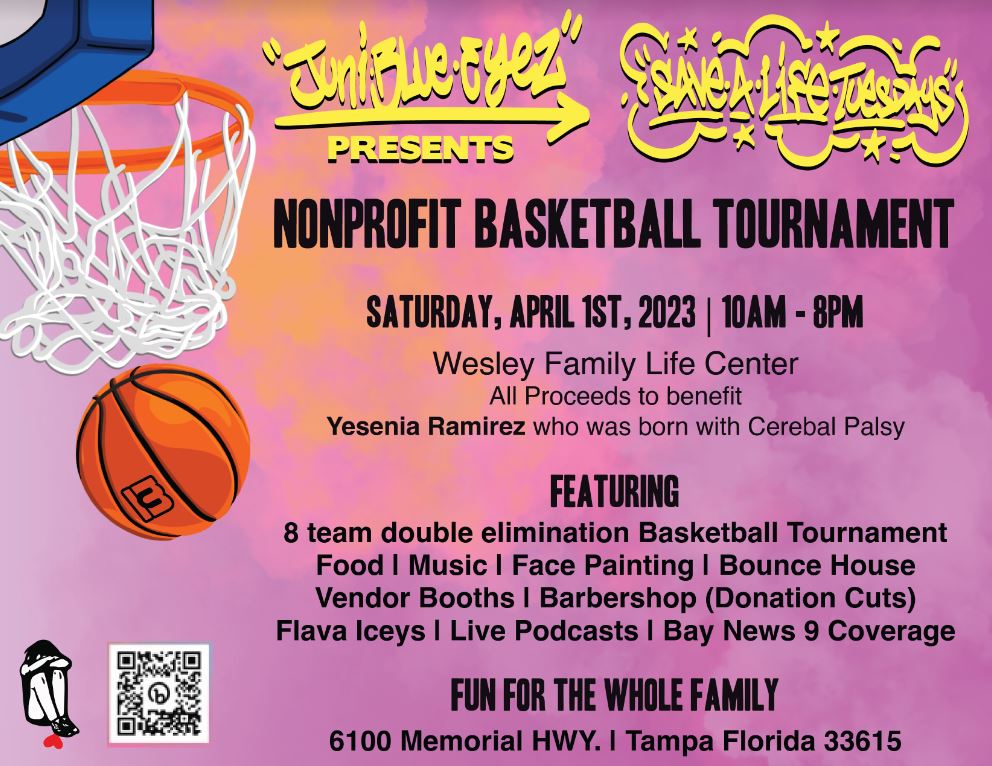 There will be a Nonprofit Basketball Tournament on Saturday, April 1, 2023 featuring also activities for the whole family. In addition to a 8 team double elimination tournament, there will be food, music, face painting, bounce house, vendor booths, barbershop and Flava iceys. There will also be a live podcast and Bay News 9 Coverage.

The host is known as "Juni Blueeyez" who created "Save a Life Tuesdays" after his best friend became quadriplegic from being shot. The name of the organization has an interesting backstory from an exchange Juni had with his friend at bedside on a Tuesday. From that day, every Tuesday leading up to the first fundraiser event, Juni made a point to do something special to help or just bring a smile to his friend. They later agreed that any day could be a Tuesday to help someone in need. The purpose of the organization has now expanded to help others in need and the community. The first event for "Save a Life Tuesdays" was in 2019. Unfortunately, due to covid, there was a delay in scheduling future events until now on April 1, 2023.
You can see a video of the first event here!
The proceeds from the 2023 event will go to Yesenia Ramirez who was born with Cerebral Palsy. She was raised through adversity but was able to graduate with honors and was part of the Sigma Lambda Gamma Sorority. You can read more of her story here. Yesenia's wish list includes a wheelchair accessible van, new electric wheelchair with lights and speakers, new manual wheelchair, gait walker, and to meet her siblings for the first time.
"Save a Life Tuesdays" will be an all-day event starting at 10am to 8pm. The star attraction is an 8 Team Double Elimination Basketball Tournament. There will also be a variety of events for the family including Face Painting, Bounce Balls, a variety of vendor booths, a barbershop as well as plenty of food and music. There will be a live podcast throughout the day as well as coverage by Bay News 9.
Join us April 1 for a fun family event that supports a worthy cause!