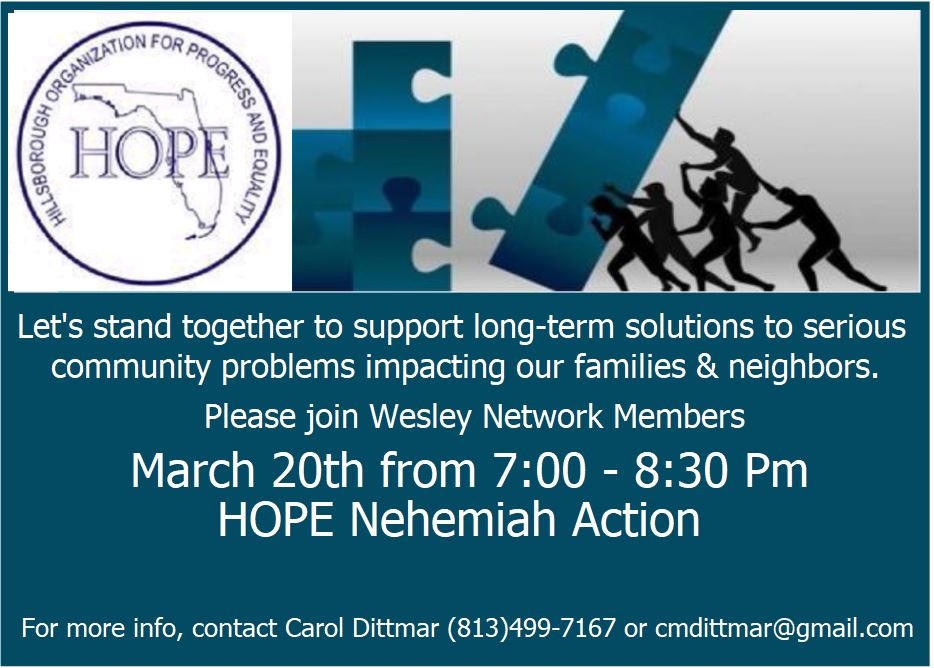 Leading up to the Nehemiah Action, HOPE will have meet up on Monday, Feb. 27 at Hyde Park United Methodist Church at 7:00pm to rally all Network Members to learn what we discovered during our research and what we want from public officials at the Nehemiah Action. Network member make committments toward the Nehemiah Action.
The Nehemiah Action will then meet at Bible-Based Fellowship Church at 7:00pm on March 20th. The goal is to get as many people possible there to stand in unity as HOPE makes a petition to public officials for progress in specific areas. Wesley has made a goal of getting a minimum of 40 people from our congregation to join us at this event. The power of numbers in people helps the petition for much needed improvements in Hillsborough County and hold our publc oficials accountable for justice.
For more information, please contact Carol Dittmar at (813)499-7167 or [email protected]
You can also learn more about the HOPE Organization here.