Bags are packed for January and ready for delivery!  How awesome to know that each Friday these bags will be delivered to 131 children that are in desperate need. We pack these bags with a whole lot of love and hope and we pray these children feel that in their hearts.
Thank you for all your prayers for this ministry…we sincerely appreciate.  We are preparing to re-stock our shelves, so if you'd like to help, here are a couple of our current needs.
Jif to go peanut butter cups – 1.5 oz.
Juice pouches or boxes
Granola Bars – kid friendly flavors
Just a reminder for our Amazon shoppers out there.
Wesley (proceeds go to Pack a Sack) is now part of the AmazonSmile program. For those who do not know – here is information on AmazonSmile:
AmazonSmile is a website operated by Amazon with the same products, prices, and shopping features as Amazon.com. The difference is that when you shop on AmazonSmile, the AmazonSmile Foundation will donate 0.5% of the purchase price of eligible products to the charitable organization of your choice.
To make sure Wesley is getting the 0.5% donation –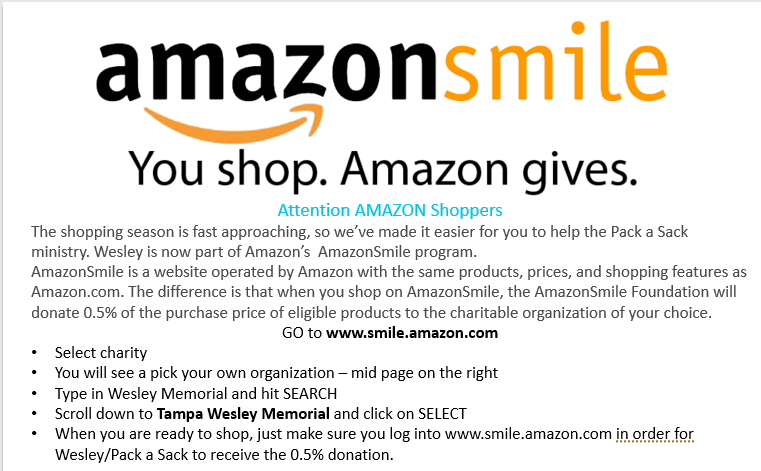 If you have any questions about Pack a Sack or purchasing items, you can always ask me at church on Sunday or feel free to call me Jamie Wright @ 813/967-3800 or contact Shaun Black.